CONTACT
Network Direct, Inc.
Contact Center Outsourcing &
Operations Experts

14530 Delano Street
Van Nuys, CA 91411
(818) 908-4000
(818) 475-1354 fax
Send us an E-mail


© Copyright 2007
Network Direct, Inc.
All Rights Reserved



Call Center Outsourcing...the Challenge
Most companies using or needing telemarketing today are considering outsourcing as a total or partial alternative to developing and managing their own in-house call centers. There are countless reasons that underscore the benefits of outsourcing, such as: maintaining or establishing a competitive advantage, lowering operating costs, delivering expertise not usually available in-house, and providing the latest technology with no additional capital investment or employee overhead. Call centers that specialize in managing outsourced business can afford to offer these advanced capabilities because they serve many clients, spreading the cost, and realizing the benefit through increased productivity.

At the same time, there are also hidden challenges that await the outsourcing company. Companies using call centers have learned that while the business looks simple from the outside, in fact, it is a dynamically fluctuating business that presents continual and unexpected challenges. Minor adjustments can often produce dramatic returns; small missteps can result in substantial loss of revenue and customer service headaches.

The key to successful outsourcing is to have a qualified management team responsible for guiding and managing your program through every step of the outsourcing process...from program development, to call center selection, to ongoing program management. With NDI's knowledgeable and proven management and support staff as part of your management team, your chances for program success are greater than if you do it alone.

NDI...the logical solution
NDI provides the kind of solution that upper management dreams about...thoroughly experienced and well-prepared professionals who join your management team, working with you from the initial planning stages to the ongoing, daily management of your outsourced programs in order to help you achieve success. Best of all, NDI will provide our professional advice and service on a no-fee basis to you.

NDI is comprised of telemarketing professionals who have held senior-level management positions in the call center industry. Our vast experience developing a wide range of programs for many companies helps us understand what works most effectively and which call centers are best suited to meet your specific program needs.

The NDI mission is simple: Provide sound senior management and ongoing support to help you obtain maximum results and value through call center outsourcing. At the same time, we work with the call centers to help them achieve the best possible results for you. NDI's commitment is to provide added value to the equation, for all concerned parties.

NDI...no-cost evaluation and assessment
Why have so many leading companies decided that NDI was the smart business solution to their telemarketing challenge? The answer is simply dollars and cents...they found their costs were no more, and in some cases even less, than if they tried to do it alone. But, more importantly, adding NDI to their team contributed significantly to their success and made managing their outsourced programs easier. Learn how NDI can help you successfully develop outsourced resources by calling us today for a no-cost evaluation and assessment.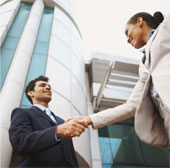 "Network Direct helps companies make the right choice, the first time, when it comes to customer service and sales outsourcing."